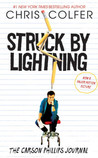 Struck By Lightning: The Carson Phillips Journal by Chris Colfer
My rating: 2 of 5 stars
First off, let me explain the rating. It's not that this a terrible book. It's not a great book either, but it'll probably really click with some people. I watched the movie two years ago (review on my blog here) and it worked for me. I got it. I liked it. I talked about it.
When I came across the book, I figured since I liked the movie, it seemed likely that I'd like the book. For me, personally, this book is just "okay". I'm not going to read it again, I'm not even going to keep my copy. I did finish it, and I didn't hate it, but I didn't really feel like I even got enough out of it to like it, hence the two-star rating. It's probably because everything I would have gotten out of it, I'd already gotten from the movie. I didn't feel like the book added anything to what I'd already seen.
Basically, if you love this book and have never seen the movie, then yay, there's a great adaptation out there! But if you've seen the movie, this is one of those rare cases where you might not actually need to the read the book.
I typically don't recap plots in my reviews just because I figure those are easy to find elsewhere. I am, however, going to expand a little on a couple of my status updates with this book, because they pretty much cover the other biggest issues I had reading this.
The Setting: this "small town" of over 9.5 thousand is actually MUCH bigger than the small town I grew up in, which was under 2.5k. So when the narrator goes off on tangents about how small and pitiful and dead-end his town is, I'm like, nope! I mean, the town has a freaking COMMUNITY COLLEGE. I'm pretty sure the closest community college to me was about a two hour drive, three towns over. But then he's trying to say that getting a movie theater is a huge shinny new deal, whereas my tiny town had a movie theater that was converted from an actual stage theater and so old it was in a historic building. I know each town is going to be different and that comparative population size on average means his was technically a small town, too, but those kinds of things really stick out to me (obviously).
The Snark: Normally, I'm a huge fan of snark. My favorite website ever is called Snark Squad. My own family frequently can't tell if I'm being sarcastic or sincere unless I drop some obvious hints. But the snark in this book often ended up coming across as overbearing or just plain nasty. And granted, the narrator is a teenager, and therefore might not be the most self-aware creature in the world, but on paper felt like a little much, and sometimes even made me uncomfortable because of just how unrelentingly mean it was. Oddly, there were a lot of line I remembered from the movie in here, but somehow in dialogue it just seemed to work better. Maybe it's just that spoken words don't linger like they do in print, or maybe I've just changed more than I thought in the last two years since I watched the movie and gotten more sensitive to what people say about each other. Maybe both. Either way, I think the moment I appreciated the most was when Carson started wondering if he was actually the villain in this story. I was a little disappointed that this sudden introspection didn't actually seem to stick around or lead to any new growth, however.
All in all, I'd say if you haven't watched the movie, by all means, read this and then watch the movie so you can tell me how it comes across in that order. I'd be very curious to know. And if you've already watched it, but are still curious about the book, don't let my options stop you. Read it, and then let me know if you agree with me or if I'm being too harsh on it, or if I didn't take it to task enough! Everyone's take on media is going to be different, and that's what makes discussions of it interesting.