Dear Cyber-Friends,
I have a confession to make. I've never watched Mad Men. Not because of any particular reason — my sister watches and likes it — but just because I haven't gotten around to it yet.
I have, however, watched The Hour.
The Hour is a short-lived BBC drama set in the mid-1950's, centered around the people involved with a television current-affairs news program called, of course, The Hour. It ran from 2011-2012, lasting only two six-episode-long seasons (a total of twelve episodes), before it was canceled by the BBC due the viewing figures being under their threshold for renewal.
The soundtrack alone — especially the opening title, brilliantly composed by Daniel Giorgetti —  would be enough reason for me to recommend checking out this show. It sets the mood and the era seamlessly, and I could listen to it all day.
The cast is full of talented British actors, including Ben Whishaw (the newest Q in Skyfall, among other credits), Romola Garai (whom I most fondly know from I Capture The Castle), Dominic West (in practically everything), Anna Chancellor (also in practically everything), Oona Chaplin (in Game of Thrones, among other credits), and joining them in the second season, Peter Capaldi (of recent Doctor Who fame, among much else).
The real star of The Hour, however, is the storytelling. There are so many plots and threads and clues throughout each season that new layers will be discovered on each re-watch (something I love), yet still each episode has enough on the surface to draw you in and capture your attention on the first viewing. The pacing in each episode is slow, and it can take awhile to get drawn into the show, but it's such an exciting and rich story within that it's worth the effort.
The first episode of The Hour left me feeling like this show had potential, but I wasn't quite sold on it. I watched the next, and immediately told my sister and parents they had to start watching it. I didn't need to see any more to know I was on to something special. I started over with my parents (and got so much more out the pilot now that I had an idea where things were headed). They weren't quite as convinced about it, but were willing to give it a chance. By the fourth episode, they were hooked and as eager as me to watch more.
I don't want to go into too much details since I like to keep things spoiler-free, and also because I want you to go experience The Hour knowing as little as I did when I started, so you can enjoy seeing the plots unfold as they were meant to. What I will say is that the first season has the overarching storyline of trying to launch and run a cutting-edge format for news program, with a background of actual historical events, and a plot of investigating a conspiracy and murder with a dash of spy-verses-spy. If that doesn't sound like a fantastic mix, then we obviously have very different tastes. The second season deals with various forms of fall-out, more historical events, different conspiracies of corruption, and so on. It's just as excellent and exciting.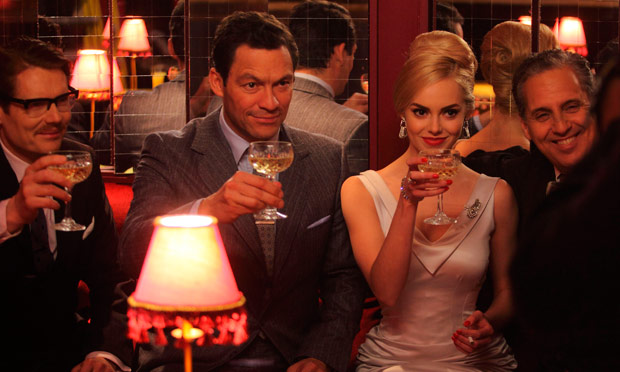 The producers of The Hour said they had plans for the third season after the cancellation was announced, and it's clear in the final episode that there are a lot of interesting ways they could have gone with it. However, I think they managed to get the stories and characters to a point where the audience isn't left completely hanging by never knowing what happened next — always a relief when watching a canceled show. It still feels like an open-ended chapter, but it does have a sense of that chapter having concluded rather than feeling like a cliff-hanger.
The Hour is interesting, intelligent, exciting, well-paced and well-plotted. It has an amazing cast and a perfect soundtrack. It deals with serious issues in a way that is thought-provoking and realistic. There's very little black-and-white/right-and-wrong in the bigger picture; there's a lot of conflicting points of view and morals clashing between educated and passionate characters. It's a compelling program, and it's good storytelling. If you haven't yet, you really ought to watch it.
Love,
GeGi.